Soirée Prestige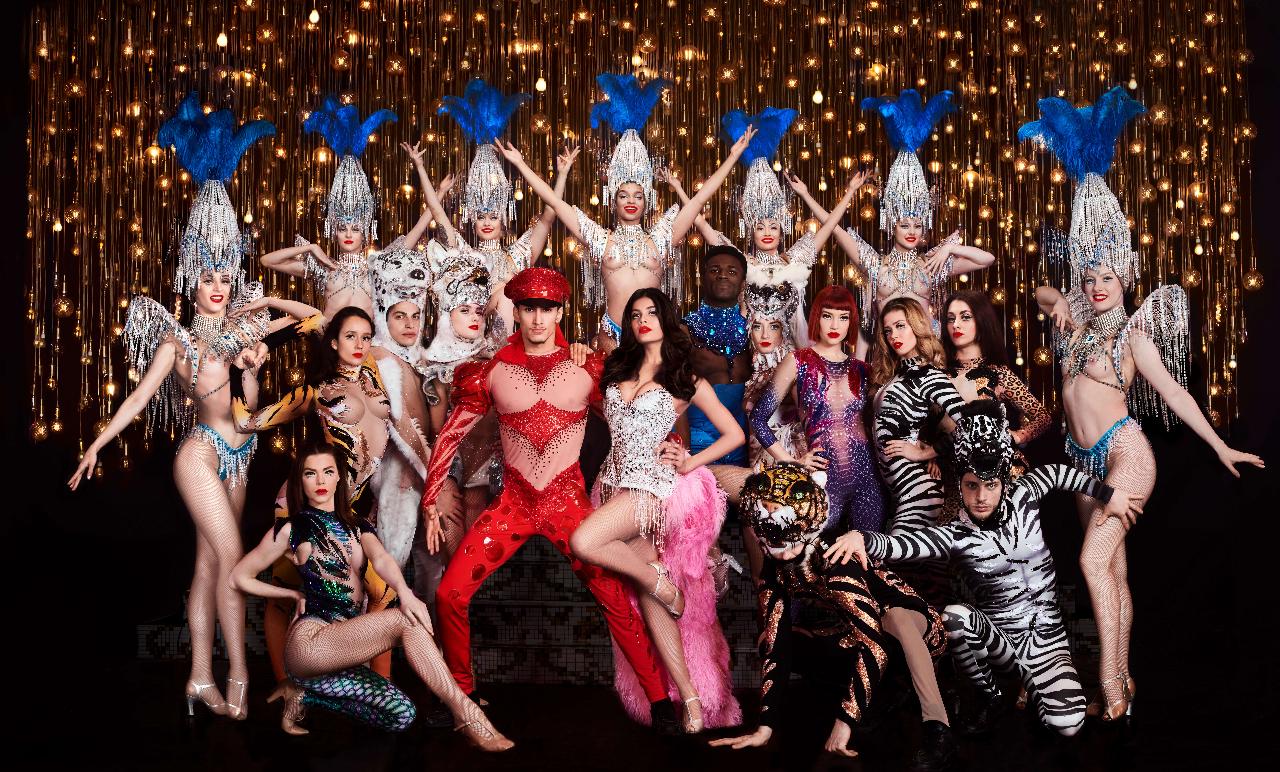 Duration: 3 Hours (approx.)
Location: Paris, Ile-de-France
Le tarif enfant est valable jusqu'à 12 ans inclus

Dîner-Spectacle, Menu Prestige

Arrivée à partir de 19h30, Dîner & Pré-show à 20h00, Spectacle "L'Oiseau Paradis" à 21h30, Grand final à 23h00
MENU*

Entrées :


Le foie gras en fleur de Paradis
Foie gras en forme de fleur, salade de chou pointu à la mélasse de grenade, piment d'Espelette et pain au levain toasté

ou

Tourteau-avocat en fine gelée de crustacé, tuile à l'encre de seiche
Rémoulade de tourteau avocat, gelée de crustacé en voile, pomme granny Smith et mélange de cress : shizo, radis cress et fleur de capucine

ou
Une salade César comme au « Paradis »
Salade romaine assaisonné sauce césar, croûtons et copeaux de parmesan, filet de poulet rôtis

Plats :

Dos de cabillaud cuit au citron vert, ragoût de moules et haricots plats au curry
Dos de cabillaud cuit avec zestes de citron vert, haricot plat, moule et jus de moule, lait de coco et curry jaune, chou-fleur violet et feuille de shizo

ou
Médaillons de lotte, légumes et safran « genre bourride »
Médaillons de lotte cuit à l'huile d'olive et safran, pomme de terre grenaille et poireau fondant, pois gourmand, pack choy snacké, soupe de poisson lié à l'aioli

ou

Le Paradis Wellington « servi-saignant »
Filet de bœuf, duxelles de champignons de Paris, cecina (jambon de bœuf), pomme de terre, feuilletage qui enferme le tout. Cuit au four, servi saignant, jus de bœuf au porto.


Desserts :

« Tenue Blanche »
Dessert parfumé citron et verveine

ou

Grognardise « fraise-vanille »
Dessert en forme de canon fraise et vanille, un peu de pistache parfumé à la framboise
-
Eau minérale
* les menus évolueront au fil des saisons

Nous pouvons vous proposer des alternatives à ce menu pour : végétariens, allergies, restrictions religieuses. Merci de signaler votre préférence à la réservation dans "Besoins particuliers".

Important: Les artistes du Paradis Latin jouent plusieurs fois par semaine sur plusieurs mois. Des changements d'interprètes peuvent en résulter pour préserver les capacités des artistes. La modification de distribution ne donne droit à une quelconque compensation, aucune réclamation ne sera prise en compte.
---
Children rate valid up to 12 years old


Prestige Menu Dinner & Show
Arrival at 7:30pm, Dinner & Pré-Show at 8pm, Show "L'Oiseau Paradis" at 9.30pm, Grand Finale at 11pm.
MENU*
Starters :

Foie gras flower of Paradise
Flower-shaped foie gras, white cabbage salad with pomegranate molasses, Espelette pepper and toasted sourdough bread


Or

Crab and Avocado cake in fine shellfish jelly, squid ink tuile
Remoulade of avocado and crab meat, shellfish jelly, Granny Smith apple and mixture of cress: shizo, radish cress and nasturtium flower


Or

A Caesar salad like in "Paradise"
Romaine salad seasoned with Caesar sauce, croutons and parmesan shavings, roasted chicken fillet


Main courses :

Cod back candided with lime, ragout of mussels and flat beans with curry
Back of candided with lime zest, snake bean, mussels and mussel juice, coconut milk and yellow curry, purple cauliflower and shizo leaf


Or

Monkfish medallions, vegetables and saffron "bourride style"
Medallions of monkfish cooked in olive oil and saffron, new potatoes and fondant leek, gourmet peas, snacked choy pack, fish soup with aioli


Or

Paradis Wellington "served rare"
Filet of beef, mushroom duxelles, cecina (beef ham), potato, puff pastry that encloses everything. Baked, served rare, beef jus with port


Desserts :

"White Outfit"
Light lemon Mousse and verbena insert


Or

"Strawberry-vanilla" cannon
Dessert in the shape of a strawberry and vanilla cannon, few pistachios flavored with raspberry
-
Mineral water

* menus will evolve through the season

We can offer you alternatives to this menu for : vegetarians, allergies, and religious restrictions.Please let us know your preference at the time of reservation in " Special requirements".
Important: To preserve the artists capacities, casting changes can happen. These modifications does not give right to any compensation and no claim will be taken into account.